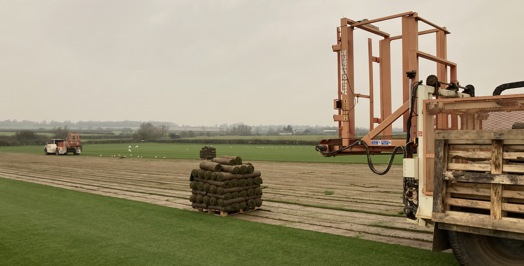 Budget Turf
£2.60 per 1m sq roll + VAT.
Our down-graded Classic Lawn Turf for tighter budgets.
Product Info.
Quantity Calculator
Delivery Info.
Budget Turf is available for customers for whom price is an important consideration. The product is a down-graded version of Classic Lawn Turf and will have been grown from the same seed mix. Turf appearance will be generally good but the product will not have met all of the high standards of Classic Lawn Turf.
Each roll of turf measures 600mm x 1670mm and will cover approximately 1 square metre, when ordering please add add an extra 5% to allow for cutting in. Use our handy calculator on the tabs above to work out how many rolls you'll require.
Use our handy form to calculate how many rolls of turf you'll require for a specific sized area.
We currently deliver to the following postcodes, if you are outside of these areas please contact us by calling 01621 860659.
CO1-CO16
SS0-SS-9, SS11-SS17, SS22, SS99
CM0-CM9,CM11, CM11-CM24, CM77
IP1-IP33, IP98
---
About our Turf Delivery services
Tolleshunt Turf provide a personalised delivery service direct to your door, ensuring your products reach you in perfect healthy condition.
Turf is delivered by our own lorries and staff
Orders are unloaded by crane
We don't use couriers (read more below)
---
What you need to check before receiving your turf delivery
When placing your order, you will be asked for your delivery day preferences.  We will do our best to match your needs but we cannot guarantee a delivery day upon order placement.
You need to let us know of any potential problems that the delivery driver may have such as yellow lines, low hanging trees and overhead wires.  There is a section on the order form for you to let us know of these potential problems.
On the day of delivery the driver will need sufficient space to park and safely unload. You will be given an estimated time of delivery so please make sure that the delivery area is kept free of parked vehicles during this time.
---
How the turf products will be delivered
Once the lorry has safely parked the driver will begin unloading using a hiab.  This is a crane mounted on the back of the lorry that is operated by the driver.  Turf will be lifted off on pallets, while bulk bags of blended topsoil, bark and logs are lifted by the bag handles.
Our delivery drivers will do their best to leave products on your property but are limited by the reach of the hiab.  Please remember that deliveries are to kerbside only and that once unloaded, you are responsible for the product.
For further information on deliveries see Terms and Conditions
---
Turf Collections
Ordered turf can be collected directly from our yard. This has proved to be very popular with both private customers and landscape gardeners as freshly harvested turf can be collected on the day of order. We have large concrete loading areas so that turf can be despatched from the field to your vehicle within minutes of harvest. Small orders will be loaded into your vehicle by a member of our team and for large orders a forklift will be used.
The address of our yard for product collection is:
Tolleshunt Turf Farms
Green Farm
Salcott
Maldon
Essex.CM9 8HL
Click here for a map of our location
For further information on collections see our Terms and Conditions page.
For help or assistance with your order please call 01621 860659 or email enquiries@tolleshuntturf.co.uk